Children's Ministry
We love children at Lighthouse Baptist and believe they play an important role in the health and expansion of our ministry. We have several ministries dedicated to teaching children the Word of God. In addition to that, we also seek to find ways for kids to get involved in ministry, even at a young age.
The ministries we have in place are also intended to keep our children safe. We have installed security cameras around the church, we require teachers and helpers to undergo certified background checks, and our fenced-in playground provides a place for children to play after our services.
Some of the ministries designed for our children include Sunday School classes for all ages, junior church during the morning service, American Heritage Girls, handchimes, and our annual Christmas play.
Youth Ministry
Our teens are not just the church of tomorrow- they are the church of today! At Lighthouse Baptist, the youth ministry is more than just a ministry to the teens. The youth ministry is the teens' ministry to us!
Pastor Shawn Flynn, our youth pastor, understands the challenges facing our teens today, and he wants to help them look at life with a biblical perspective. As a result, Bible studies, retreats, and service activities are aimed at teaching the youth how to live, present, and defend their faith with boldness.
Ministries include Sunday School, monthly activities, summer camps/trips, and our annual statewide Transformation youth conference held in the spring. Service opportunities in the church include teen services, Vacation Bible School, assistance with Sunday children's ministry, the Christmas play, and our annual Valentine's Dinner.
Seniors Ministry
The seniors at Lighthouse have been great, godly examples to the younger adults, teens, and children in our church. Many of them have faithfully served the Lord in several capacities, and most of them are still active participants in the church's weekly ministries.
Once a month our church provides a Sunday lunch for the seniors following Sunday School, and it's a great time of fellowship for all of them. Sometimes our teens serve this meal and then enjoy a time of interaction with the older folks.
Many of the seniors also attend weekly Bible studies that are held on Monday, Tuesday, and Friday in various locations. To find out where these Bible studies are held, visit our schedule page and look under the "Bible Studies" heading.
Men's and Women's Ministries
The men and women of our church are busy people as they work full-time to raise their families and pursue their careers. But there also needs to be opportunities for them to slow down, enjoy fellowship, encourage one another, and have some fun.
For our women, we have occasional conferences and retreats, weekend craft parties, and an annual Christmas tea party hosted by Pastor Bjokne's wife.
For our men, we have a monthly Men & Boys Ministry and an annual weekend conference called Men For Christ.
Music Ministry
The music ministry at Lighthouse keeps growing all the time! Several people participate in our services by playing the piano and singing, and we recently started up an instrumental ensemble that accompanies the singing during our Sunday morning service. As time goes on, we hope to keep adding to this ensemble with additional instruments.
God also provided us with 3 octaves of handchimes and 3 octaves of handbells, so we encourage people of all ages to participate in our ringing ensembles. Kids start out on the handchimes and progress to the handbells while teens and adults start on the handbells and sometimes incorporate both instruments into their music.
From time to time we also have a choir that practices for special events.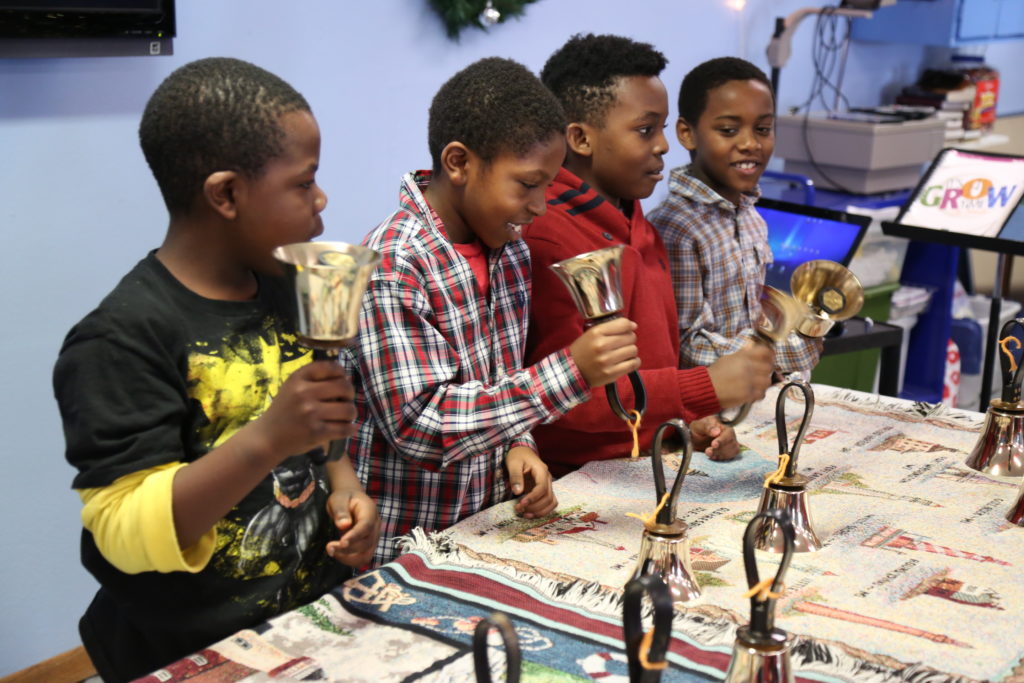 Outreach Ministries
We have a wide variety of outreach ministries. Every week, a few members from our church hold Bible studies at a local jail. When the weather is warmer, we go door-to-door, looking for those individuals in the community who are unsaved and perhaps unchurched.
In the near future several families will start Bible studies in their homes, walking people through an overview of the Bible. We are also actively involved in activities at the local schools and other community events. There are numerous ways to get involved in building relationships and sharing God's love with those around us.
Let us find a way to serve you and to include you in ministry at Lighthouse